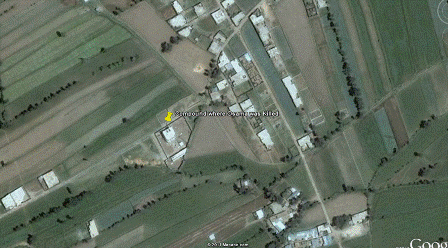 Place where Osama Bin Laden was killed. The area around has more homes now. It is north-west of  abbotabad. DNA was matched with his dead sisters who died of cancer in Boston. Osama Bin Laden secret code name was "geronemo". This has been a defining moment for Americans and the countries who denounce terrorism. Pakistan can  no more influence to gather the millions every year on the pretext of trying to find Osama. It is time that Pakistan cleanse ISI and work towards progress and peace in true sense.
Another Osama Bin's laden wife was hit on the calf but she remains in Pakistan for further questioning by local police. Navy Seals have confiscated a large set of incriminating documents , cds and videos. American authorities believe there will be a video that will be in circulation featuring Osama Bin Laden. It was reported that Osama Bin Laden did not fire or attempted to fire at the commandos. After he was shot in the head he was flown back after initial scanning and images to a ship mostly in the Arabian Sea and pushed into the sea after giving him a religious muslim ceremony. The location at the sea may never be known. Pakistan Govt have always claimed that Osama was never in Pakistan , this incident has imparted a severe blow to Pakistan's politically motivated airy talks. Is the war on terror over ? USA would not declare to be over  yet , they cannot leave Afghanistan to create another Osama however this is a turning point and a lesson to all the extremists and terrorists – However long it takes , you will be found and brought to justice.
The compound was constructed or bought by business person a Khan of Pasthun origin of Af-Pak region.
Any Support systems provided by Pakistan's to the terrorism's logistics is of interest and will be dealt with stronger intense that will also help India